Covid-19 issues updated: Olympic is open for business as usual, subject to the guidelines declared by our governor and according to CDC published recommendations. We are currently providing all services with specified safety protocols in place to protect our customers, employees, vendors and others.
Looking for a landscape design and construction company in the Puget Sound area?
Olympic Landscape has been serving the Puget Sound area since 1977.
Located near Tacoma, Washington our family-owned landscaping contractor company can meet your landscape design and landscaping needs using our 40+ years of experience; and, we can provide you with sprinkler, irrigation, and outdoor lighting service.
As expert landscape contractors we can design and build beautiful outdoor living spaces, unique gathering spaces and specially-themed gardens for homeowners and business owners. We support residential and small commercial landscape projects for both new construction and existing landscapes.
Looking for more great landscape design ideas? Get inspired for your own project by exploring our gallery!
We create landscapes that reflect the lifestyle and interests of our clients, from formal to informal and from low maintenance to active gardening. Our goal is to provide our customers thoughtful service, innovative design and technical excellence.
Need help? For a consult or request for service, please give us a call at 253-922-7075 or use our request form.

…is a great time of year to start your planning for a new landscape installation.
A creative plan by our talented and seasoned Landscape Design Team is the pathway to an imaginative garden, as well as being an essential tool for budgeting landscape construction costs.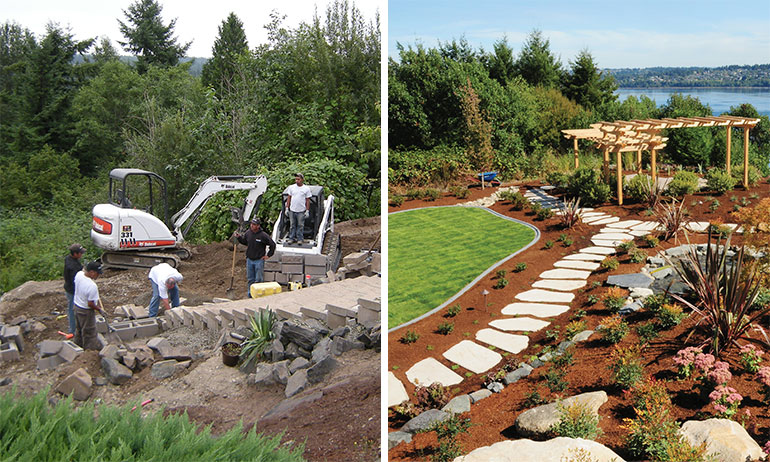 The first step? Sign up for a site visit:
253-922-7075
Learn more about our Landscape Design and Construction Services. If you feel we can help, give us a call. We believe you'll enjoy the experience!
Design
Whether you are thinking of installing your landscape in phases or as one project, plans are a method of exploring all possibilities your site has to offer. Read more…
Construction
Olympic is one of the premier landscape contractors in the Puget Sound region, with over 40 years of experience in design, planning, and construction. Read more…
Landscape Construction Features
Landscape Service
We are proud to offer friendly service at Olympic, with professionally trained technicians, and full maintenance of your landscape systems.
Read more…

Thanks to all our customers and friends who voted for us again this year!
Olympic is honored to have been voted South Sound Magazine's "Best Landscaper" every year since 2010!
South Sound Magazine is a great local 'lifestyle' publication that features architecture, interior design, landscaping, art, dining & entertainment, and much more of the Northwest's best.
They have compiled their 12th Annual list of "The Best of South Sound" where the readers vote on their favorites within the South Sound region. Thank you South Sound for this fun event!

Thank you to Showcase Magazine readers for this award.
Olympic is honored to have been voted Showcase Magazine's "Best Landscape Designer" again for 2021... the fifth year in a row!
ShowCase Magazine features the art of living in the Puget Sound Region. It is a high end lifestyle, quarterly print and digital magazine with powerful writing and appealing images, serving their readers as a guide to the best of the area.
Feature articles include don't-miss community events, dining and art stories, eye-catching spreads on fashion, home décor, outdoor living and wellness issues.
Meet Our Design Team
(2:30 min)
Learn the exciting steps for creating the landscape you've always envisioned.
Time Lapse
(4:00 min)
Our Grand Display: Heavy Metal Rocks
Landscaping Projects
(6:00 min)
See before & afters of some favorite projects.
Contact us about your landscape project!
We are located near Tacoma, Washington and are pleased to serve the Puget Sound region including the following Washington State counties and cities:
Pierce County: Bonney Lake, Buckley, DuPont, Fife, Fircrest, Gig Harbor, Graham, Lake Tapps, Lakewood, Puyallup, Steilacoom, Sumner, Tacoma, University Place
King County: Auburn, Bellevue, Burien, Covington, Des Moines, Enumclaw, Federal Way, Issaquah, Kent, Maple Valley, Normandy Park, Redondo, Renton, Vashon Island
Kitsap County: Manchester and Port Orchard
Thurston County: Lacey and Olympia
Call 877-922-7075 or use our request form to inquire about a site visit for your landscape design/construction project… or to request service of your sprinkler, and outdoor lighting.
Looking for FREE Landscape Design Ideas?
For starters, download or read online, our FREE Landscaping Design Guide! Then, check out our landscaping photo gallery below for more ideas and direction for all your landscaping needs. If you'd like to get in touch, contact us today!